The word 'producing' implies 'making'. It implies both 'making' and 'contact'. Or at least, it once did—contact with designers, contact with makers, contact with the actual things we make, contact with raw materials we make them from, and lastly contact with the people who buy them. But now in our ever increasing 'contactless' hyper-representational world, all of that has already changed. We wonder, will the act of 'being in the flesh' hold the same currency in the future?
As we teach technology to make everything for us, removing the human from the act of making altogether; so that it can free us from the shackles of production and instead leave the human race free to daydream and remote control robots. What value will the label 'made by humans' carry?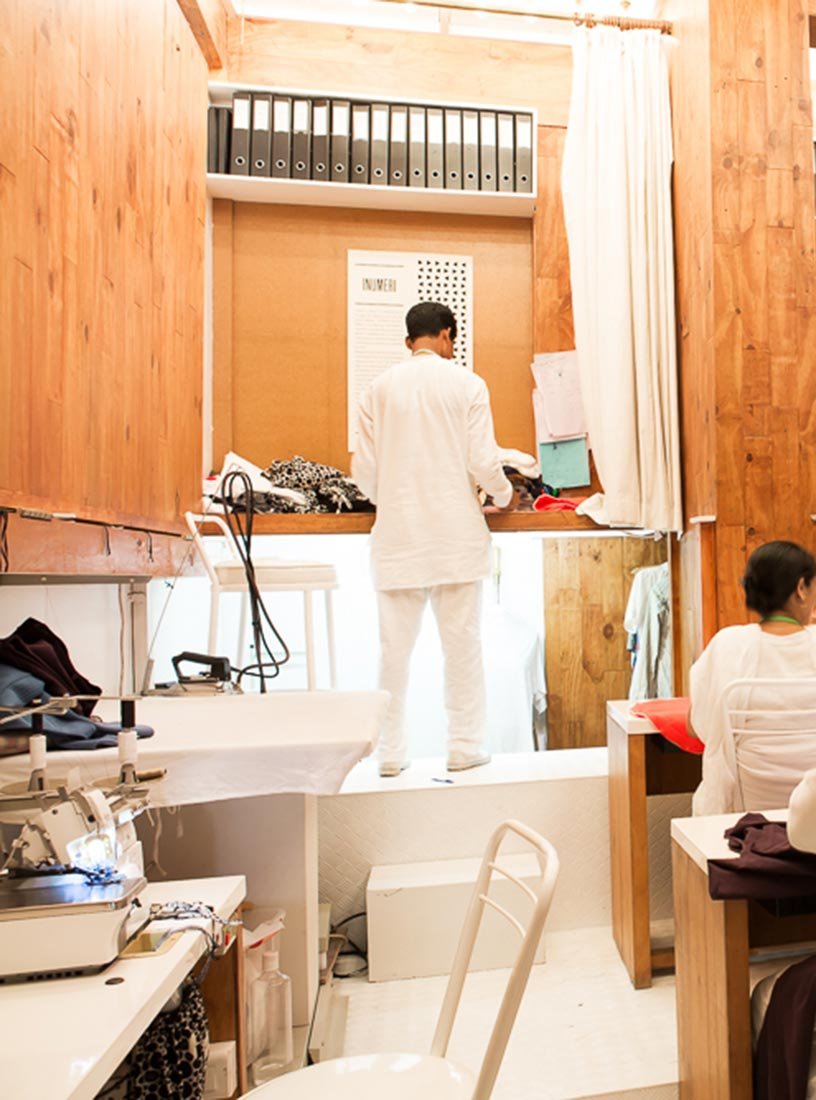 That being said,
We are not against machines.
We use them. In fact we love them.
We just think when there are people behind them,
They should maintain the basic human right to daydream?
Collaborate with the machine rather than just operate it?
Else, who is the robot and who is the human?
Questioning minds and clinical efficiencies rarely co-exist.
Is it faster to have one person stitch the same pocket over and over for days?
Yes. But is it fun? No.
This is why we reject indiscriminate scale as a simple answer to everything.
Today, we could use technology as a tool and introduce hybrid models of craft and automation—of nostalgia and futurism.
Bombay Atelier
2012–to present
Our factory is literally a school. We have been working with the same group of tailors for almost 10 years—we think of ourselves more like a band.
Our Design Studio has never been separated from our production; so that we can collaborate closely. Our tailors originally started with basic skills and came from non-specialised mass production backgrounds. Today they are incredibly talented with complex skills. Take a look at our experimental section to understand the depth of their creative ability.
Our production is designed around fun, learning and upward mobility. We go into hibernation every year from selling—to focus on experimentation and growth. We are proud to have created a place where our cleaner has been trained to rise to the position of fabric manager, and all our tailors are constantly training under our pattern master and design team to cut, create patterns, and manage quality themselves. To us production is the sexy side of fashion—not the monotonous side.
Los Angeles Pop-Up
2020–2021
Throughout this past year we have been popping up in Los Angeles—doing a show-and-tell of our collection, taking orders for our tailoring atelier in Mumbai and combining food cravings with textile cravings and books. First we did an 'after kitchen-hours' pop up at the cosy neighbourhood café Croft Melrose and later in the year we did a secret supper collaboration with Chef Phuong Tran combined with an Obataimu Lounge. We intend to continue Obataimu's presence in Los Angeles in 2022. We are grateful to all our new friends there, who came, and are helping us spread the word!
Bombay Boutique
2014–2020
For 6 years we had a lovely boutique in what was then a new neighbourhood, Kala Ghoda. Which at the time was a nice odd mix of electric shops, lawyers offices and little hidden owner-run cafes. We would design, produce and sell in this space. It was also an eclectic book store with regular events from electronic music gigs to mini film festivals, to artists and professor talks, to Indian classical concerts to cocktail mixing classes, and book readings. We loved having a space open to the public and having our wonderful community pop-in all the time. But like all good things, this chapter has come to an end, and a new one has begun, that we are so excited to share with you.
We still daydream and produce together in this physical space and we will indeed open it up to you from time to time for short periods, just as we do in Los Angeles. In the meanwhile, our new permanent space is right here, online, open to you all day, everyday, anywhere and everywhere.