what goes around, comes around.
fashion + soil + mycelium
Fashion is an interface between soil regeneration and human production.
Fashion is an interface between soil regeneration and human production.
fashion + circularity + poo
Fashion is an interface between supply chains and fads in demand. 
Fashion is an interface between supply chains and fads in demand. 
fashion + water + fishies
Fashion is an interface between under and over worlds.
Fashion is an interface between under and over worlds.
fashion + sleep + work
Fashion is an interface between metaphysical and physical states.
Fashion is an interface between metaphysical and physical states.
fashion + robotics + romantics
Fashion is an interface between artificial and human intelligence systems. 
Fashion is an interface between artificial and human intelligence systems. 

fashion + soil + mycelium
fashion + soil + mycelium
Fungi systems: from mushrooms to moss to mold and more are 'the internet of the soil.' They spread Chinese whispers amongst diverse species native to the land on 'how to share nutrients' and live together in harmony. Overproduction of a single crop (mono-cropping cotton for fashion raw materials for instance) without at least a few of its native plant friends in the mix; results in soil infertility. It also causes an increased use of pesticides and genetically modified seeds, forcing it to keep producing. Until the soil totally loses its mojo. And then, even these healing magicians of the earth can no longer help.
Over-production of fashion crops is one of the big causes of deforestation and desertification. Dead stock either lands up in landfills, get dumped in the ocean or gets burnt/ destroyed. It is a negative supply chain.
The Mckinsey report from 2020 among many others, explains why organic cotton is not an adequate industry solution: "Organic-cotton production is unlikely to be realizable at scale and achieve the efficiency of conventional systems. Currently, its market share is just one percent of the total cotton market. It typically yields 15 to 25 percent lower harvests and has more volatility during the production cycle. What's more, converting agriculture production systems to organic is challenging, especially for small-scale farms, as the conversion process can take up to three years."
The only real way to curtail mono-cropping and overproduction of fashion crops, is to cut down the supply. In our opinion this industry, like most, doesn't need to just find new ways to 'sustain' itself. It needs to step by step, totally re-invent its culture and systems from the ground up. We do not claim to have all the answers to this Rubik's cube; but we are trying to do things in our own way, keeping these challenges in mind. This is why we:
1)    Only produce a piece after an order is placed to keep out inventory. Keeping our stock down to just our design samples (3 big cupboards at the moment over the last 8 years). As for our scraps (that we collect)—every few years we do something creative with them. Much of the experimenting is done using a mix of our archive and our scraps.
2)    We only dye our raw fabrics once an individual order is placed, to avoid collecting stock fabrics in colors or prints that have a shelf life.
3)    We build our product to last (and warn you that they require extra care to maintain that super soft feeling that grows as you wear them).
4)    We strongly discourage unnecessary returns and exchanges because it can only be supported by an inventory model somewhere down the chain, which most often means the creation of a lot of waste, or the destruction of a lot of goods and fabrics.
5)    We are trying to build a culture around 'mindful' buying to compliment 'impulse' buying.

fashion + circularity + poo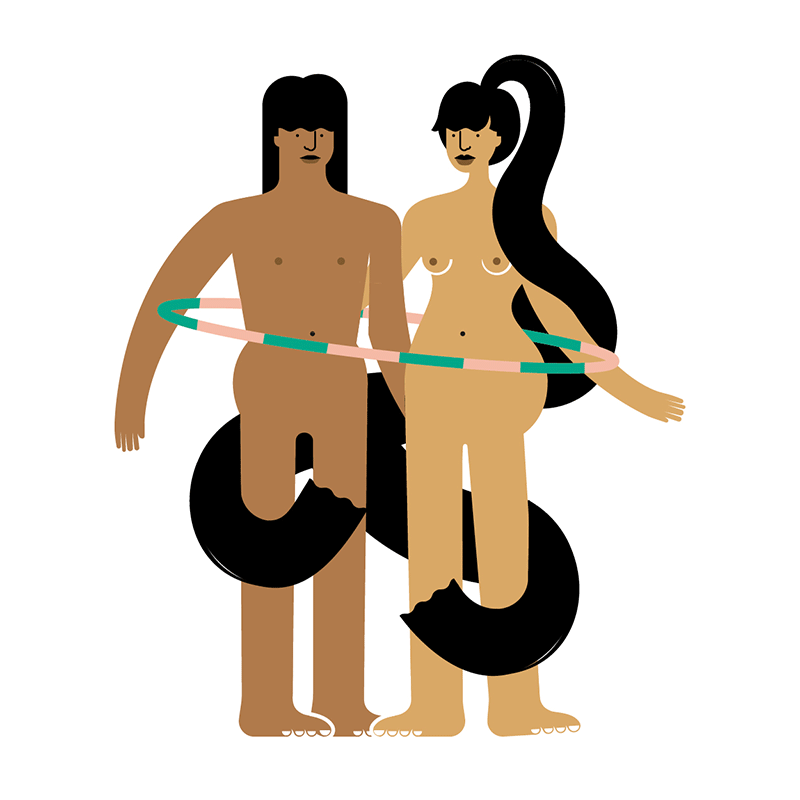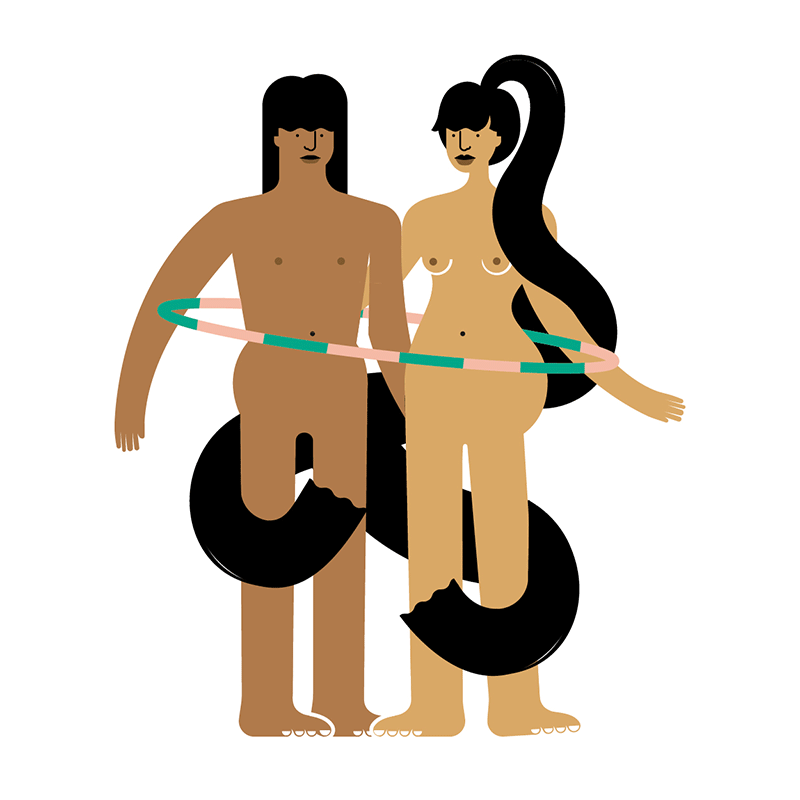 fashion + circularity + poo
When you gotta go, you gotta go. In Japan, one of the top signs of a good city, a welcoming city, is good public toilets. Often top architects are proudly invited to compete on creating imaginative toilet scenarios open to the public. The Japanese don't shy away from 'poo' and everything that comes with it. It has always been celebrated, as a playful bearer of good luck—an indication that better things are coming. This observation on our first trip to Japan twelve years ago sparked our overall approach to design thinking: design from the "poo-up." Let the waste problem be your creative starting point.
Let's consider for instance, the idea of a heated public swimming pool and a supermarket; both produce wasted energy. One from heaters, the other from coolers. Two solitary guzzlers in the same neighbourhood. Could they both be designed next to each other, designed to barter energy gained for energy lost? Could the hot air extracted from refrigeration in the supermarket not sufficiently heat the swimming pool? The technical engineering answer to this question is yes. And yet, the overriding contemporary logic of indiscriminate scale that most industries follow doesn't approach problems this way. Instead their approach tends to be:
Poo-down.
Getting as much as possible for as little as possible, as quickly as possible, without considering the cost to the environment or the human spirit. With the advent of Henry Ford's implementation of the assembly line for automobiles, the industrial revolution kicked into over-drive (in the way that mono-cropping triggered the agricultural revolution or in the way that 'the selfie' opened the Pandora's box that is social media). The method for mass-production started within one company, one factory and one industry. And soon the 'race for repetition' it proposed, took over all production systems. It became a pervasive artificial intelligence of sorts, enabling mass-consumption and hyper-capitalism.
In a flash, for better or worse, the world was thrown into excess, instantaneity and never ending consumption. Supply soon became abundant and desires instead started to be manufactured. The by-product of this was standardised over-production of goods (which implies a total denial of the planet's limitations to produce natural raw materials). A mass slowing of skill learning and upward mobility for labour classes in producing economies. The reduction of 'play and pleasure' in making the things we consume, made these jobs less and less desirable. Now, one could argue that the globe is split between lands of producers and lands of consumers. Their realities most often—could not be further apart.
Everyone knows that in India cows are given the right of passage on sidewalks. A cow run-in on an evening walk in Bombay's crowded Nanachowk market (full of makers, from cane-crafters to metal welders) prompted us to use a random cow fact to elucidate just how counter-intuitive big industry is today. Did you know that cows can climb up stairs but are not biologically programmed to go down stairs? So let's say you were to walk a cow up to a roof-top for a gander. The easiest way to bring it back down to the ground level is probably to harness the cow to a helicopter, lift it off the building and then fly it back down. So this would qualify as one of the least practical decisions a human ever made. Yet most supply chains work this way: climb now, worry later, then blame it on gravity.
Instead we prefer to draw learnings from the non-linear, complex but full circle production systems we observe in nature—anything produced by the earth can and will be easily returned to it—leaving nothing but a trace, overtime.

fashion + water + fishies
fashion + water + fishies
We tend to forget
That fashion starts in the soil,
Gets dumped in our oceans
Ends up on our plates,
Or spins round in the tummy of a whale
On repeat.
The Mckinsey Fashion Report from 2020 states that "Fashion accounts for 20 to 35 percent of microplastic that flows into the oceans and outweighs the carbon footprint of international flights and shopping combined."
Out of the twelve fabrics we have spent the last 8 years developing—the ten that we have chosen for our him and they collections are 100% natural (cottons and silks suited for summer weather or indoor use and layering throughout the year). This means they are biodegradable, which also means they release no micro-plastics. Here we offer you a wide range of healthy materials that are less upsetting to the water Gods and our underwater friends.
We want to be clear, we are not advocating for people to abandon synthetic fabrics altogether—our own Naked Slub (in the it section) and our Yoganomic Modal (in the her section) are bio-polyester blends. We are simply suggesting that synthetic fibres should be thoughtfully incorporated into one's home and wardrobe for long term purchases. As their production and decomposition is more harmful to planet.
We do not use any plastic in our packaging. All our products are hand-dyed and our fabric's are washed for softness. However, we do use chemical dyes—originally we tried using natural dyes—unfortunately we were unable to achieve our unique palette with them. Also natural dyes do fade much easier than chemical dyes and it was very important for us to create a product with longevity. And so, we searched for another solution: we rented a space at an effluent plant. Using the ETP technology  we effectively treat the chemical run off and recycle our water—ensuring that we don't waste water and that the sludge does not get dumped into the city's water system.

fashion + sleep + work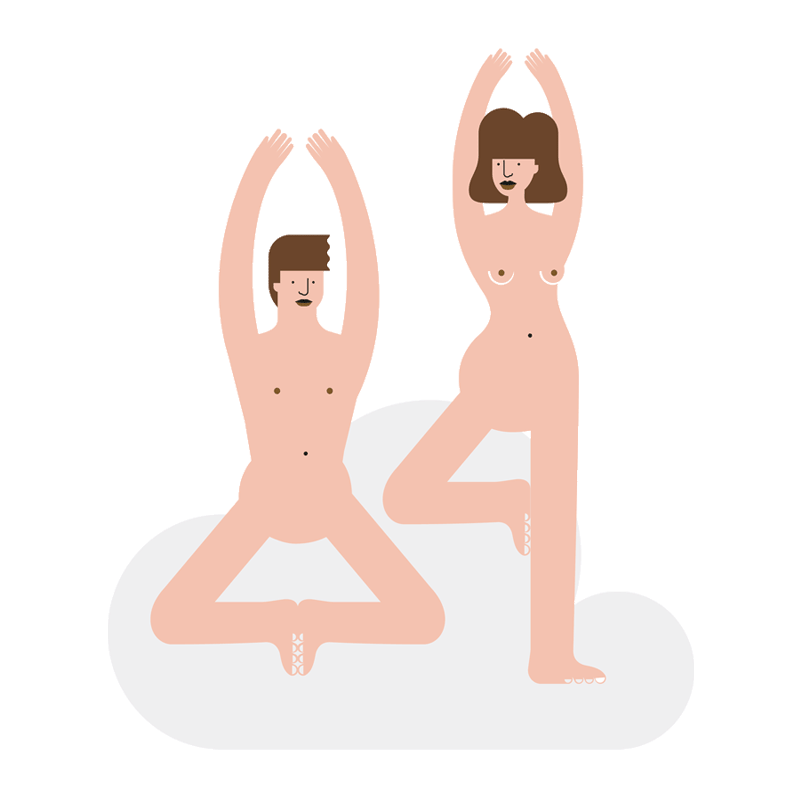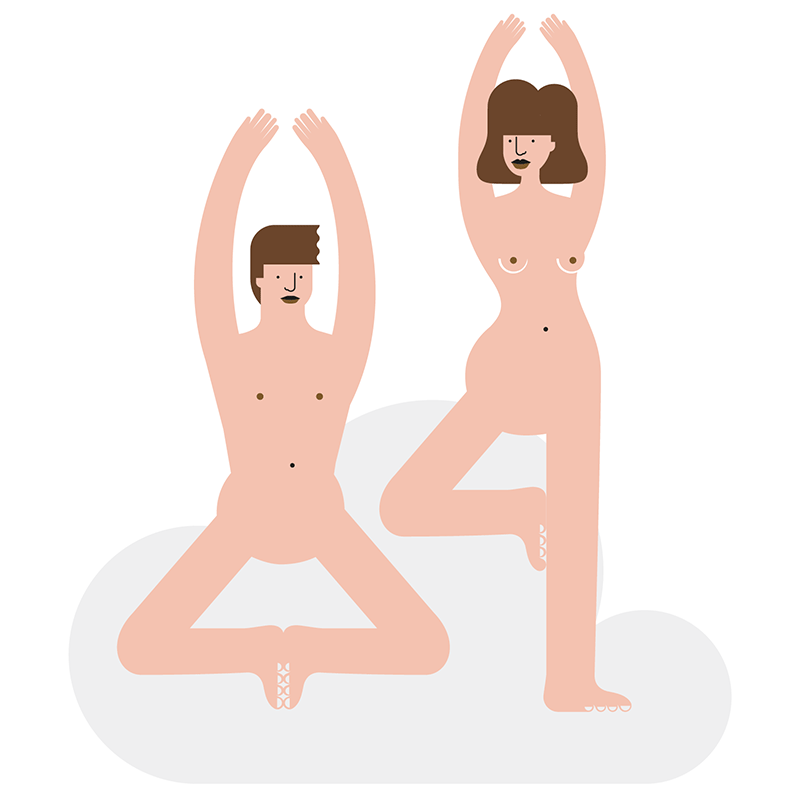 fashion + sleep + work
we cannot compete with you
prancing around in the nude
but we promise to be
your second most comfortable
all day, everyday wardrobe.
Everyone knows that fashion can be a fickle mistress, but 'sleeping in the nude' and 'working in uniform' are human trends that have existed across genders and cultures for centuries. Sleep is the litmus test for textile comfort and softness—we are always pickiest about how clothes 'feel on the body' just before we blast off into the stratosphere of sleep—to make this imaginative voyage as unconstrained as possible.
Historically, how clothes 'help the body function' has been of utmost importance when one is designing workwear. From long johns to denims—we bring these two technical approaches to clothing—through the lens of sleep (dreaming) and the lens of work (producing), together in our permanent him/her/they collection for everyday dressing.
We have seen home and office, private and public, online and offline worlds blending into one. We collaborated with a 'sleep textile specialist' with over 25 years of experience working on fabric innovation to bring the 'safety' and 'freedom' encapsulated by sleep into your workwear wardrobe. Special steam treatments, enzyme washes and bio-treatments are applied to our fabrics to create clothes for you that feel like a lover's touch with the functionality of uniform dressing. Our clothes are aimed at catering to creatives with more flexible work formats—our collars are intentionally floppy, never stiff.
Wake, eat, meditate, work, dance, ease, nap and (as they wear out) sleep in them—let them grow old with you!

fashion + robotics + romantics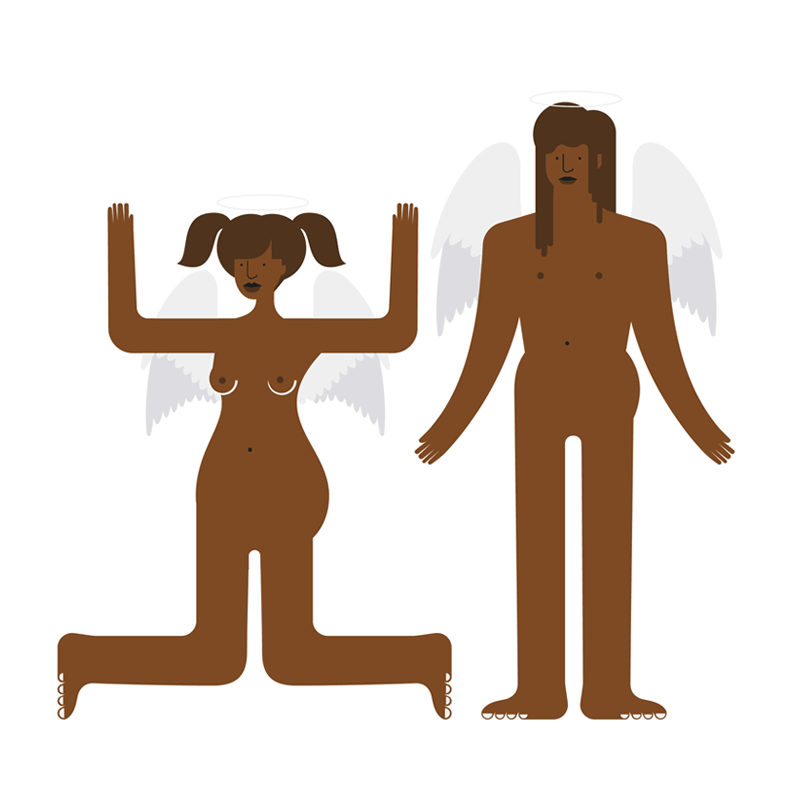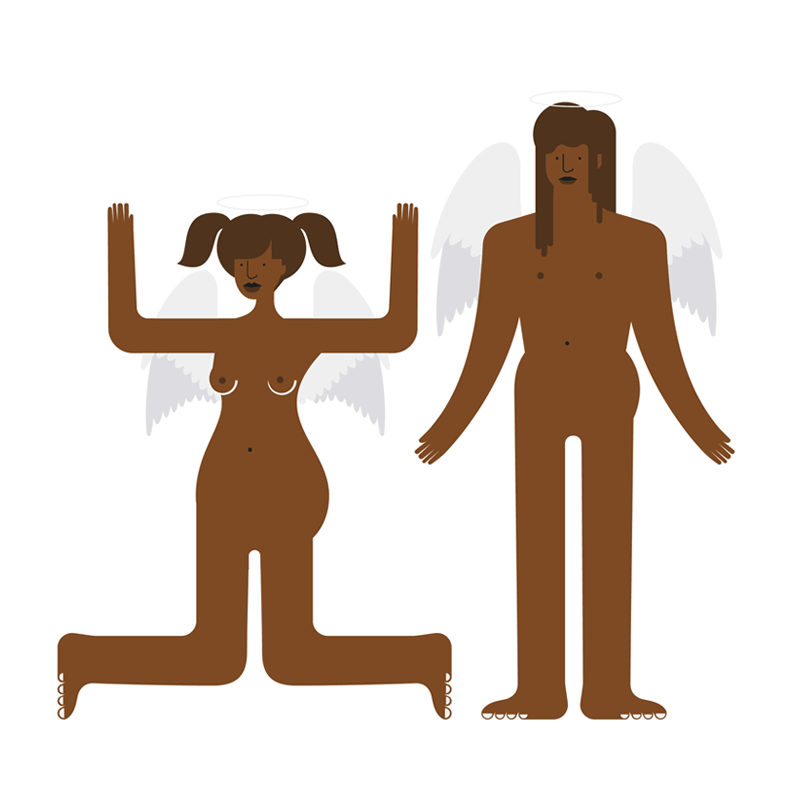 fashion + robotics + romantics
As we teach technology to make everything for us, removing humans from the act of making altogether; supposedly so that it can free us from the shackles of production and instead leave the human race free to daydream across metaverses and remote control robots from reclining armchairs. What value will the label 'made by humans' carry in 2030?
Today the need for skilled and imaginative artisans in India is fast disappearing, as it did many decades ago in the West. For the most part it has already been replaced instead by mass production positions that reduce 'human tasks' to 'robotic tasks for humans'. And this makes us sad.
Glimpsing into the future: How will automation, artificial intelligence, and augmented reality playscapes further change how we make, sell and live fashion? Whole garments of both synthetic and non-synthetic nature can already be produced without human intervention, using either 3D printing or advanced knitting machines that sculpt the yarn directly into a finished product. This year, many such technologies have been sold in the global market for the first time ever. As such technologies become more accessible, they will replace a multitude of human jobs rapidly. The consequences of this shift for garment producing nations who facilitate the global fashion industry will be devastating. We wonder: is it right for global industries not to have any accountability for the human mess they leave behind?
On another note, as we begin to step into metaverses constructed for us, and digital spaces become inevitably (regrettably) where we are likely to be spending at least 50 percent of our time in decades to come…Will digital clothing be 'what we wear-out' and physical clothing become 'what we wear in', just to clad ourselves privately? An eerie thought for the fabric industry.
At Obataimu we practice an old school tailoring tradition, and we long to protect this tradition. We crave it, just the way we do comfort food. Our mothers grew up in Bombay when it was still a jungle city; with rare sightings of panthers on night watch, and with peacocks roaming into their bungalows uninvited. They would tell us stories of their family tailors who were also always in and out of their homes. They would sort through fabric textures, pick colors and patterns together from a catalogue. The garment would then be dyed and stitched by one tailor from start to finish especially for them. It was then hand-delivered by the maker himself over a cup of freshly brewed masala chai.
Our studio has been designed around nostalgia for these stories. We have been working with the same set of tailors for ten years now and they are integral to our design process. We constantly perform experiments bouncing back and forth between our production and design team, like a game of ping pong. Our environment is personal, full of imaginative learning and exchange.
making a mess,
making a draft,
making a mess,
making love.
making another draft,
making a mess,
making something we love.