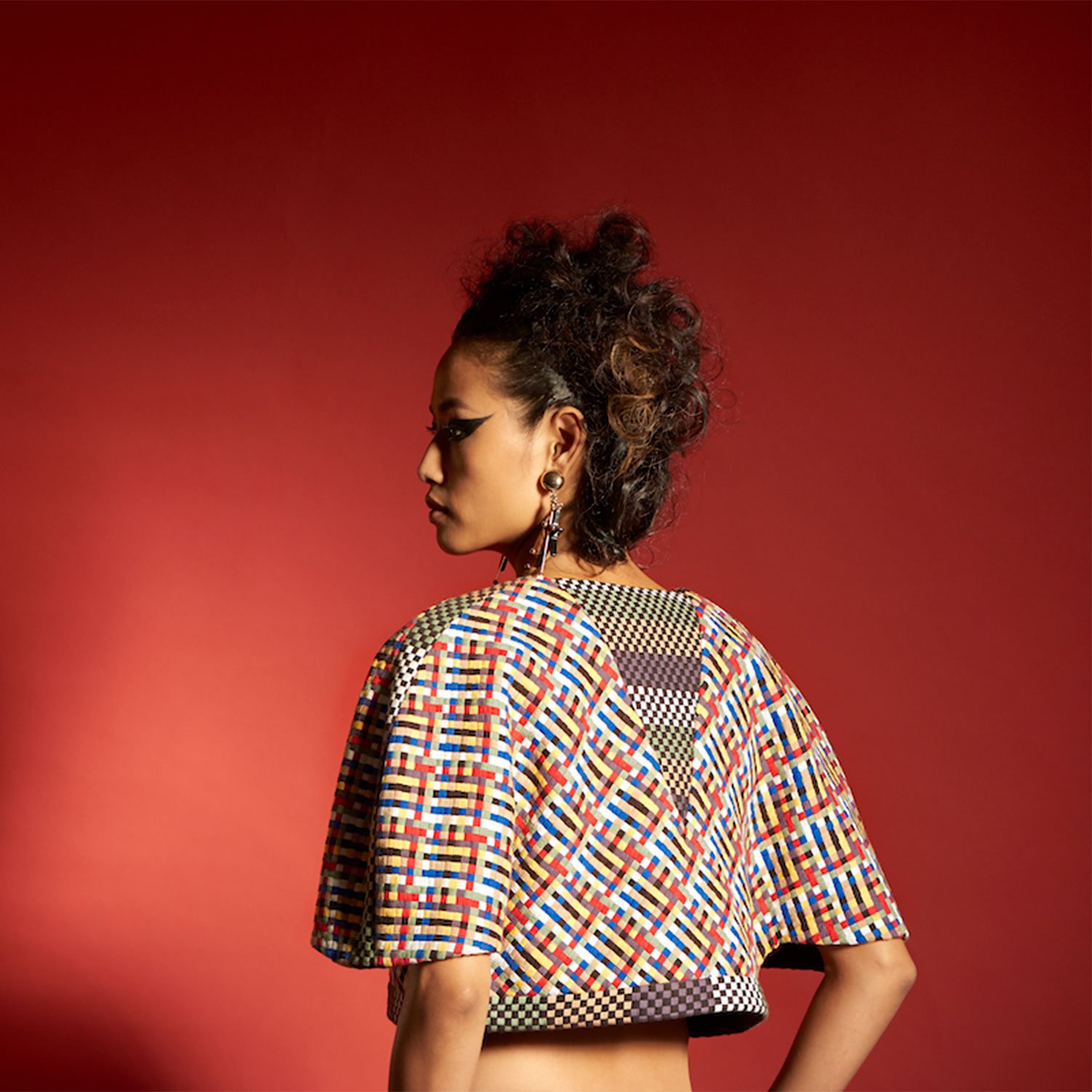 Reflecting the sensuousness of Brazilian culture and abstract aesthetics coupled with her Italian-European influence, Lina Bo Bardi transformed the nature of design in 20th century Brazil. Through the course of her life, Bo Bardi spent time as a journalist, an architect, an industrial designer and even as a historic preservationist. Playing on the relationship between materiality and culture, she was inspired by the use and reuse of basic materials like mud and straw in Brazilian object-making. Her interest in design sparked a conversation between this material improvisation, Brazilian vernacular and popular arts, leading her on studies across the country.
Inspired by Lina Bo Bardi's whimsical almost cartoon-like style of illustrations, our study lead us to create a piece of art that is an expansion of her playful spirit. The dichotomy between her colorful drawings and the seriousness of her architecture and furniture influenced the silhouette and color palette of this bolero. Strips of our Aeromul are cut up and individually sewn, creating long multi-coloured ropes. Each strip is then intricately woven together in a contemporary pattern using a classic basket weave. Traditional techniques of craftsmanship meeting modern patterns of design.  
Sizing and Styling Guide:
The model's height is 5'7 ft and she is styled in a size XS-S. Made in our inbred hand-weaving technique, this bolero is intricately tailored and designed to fit slightly loose. It is surprisingly easy to size and looks good worn true to size. We encourage you to play with it based on your preferred style. So, if you are a size XS-S, buy an XS-S. If you are hesitant about sizing, reach out to us at [email protected] and we will be happy to assist you.