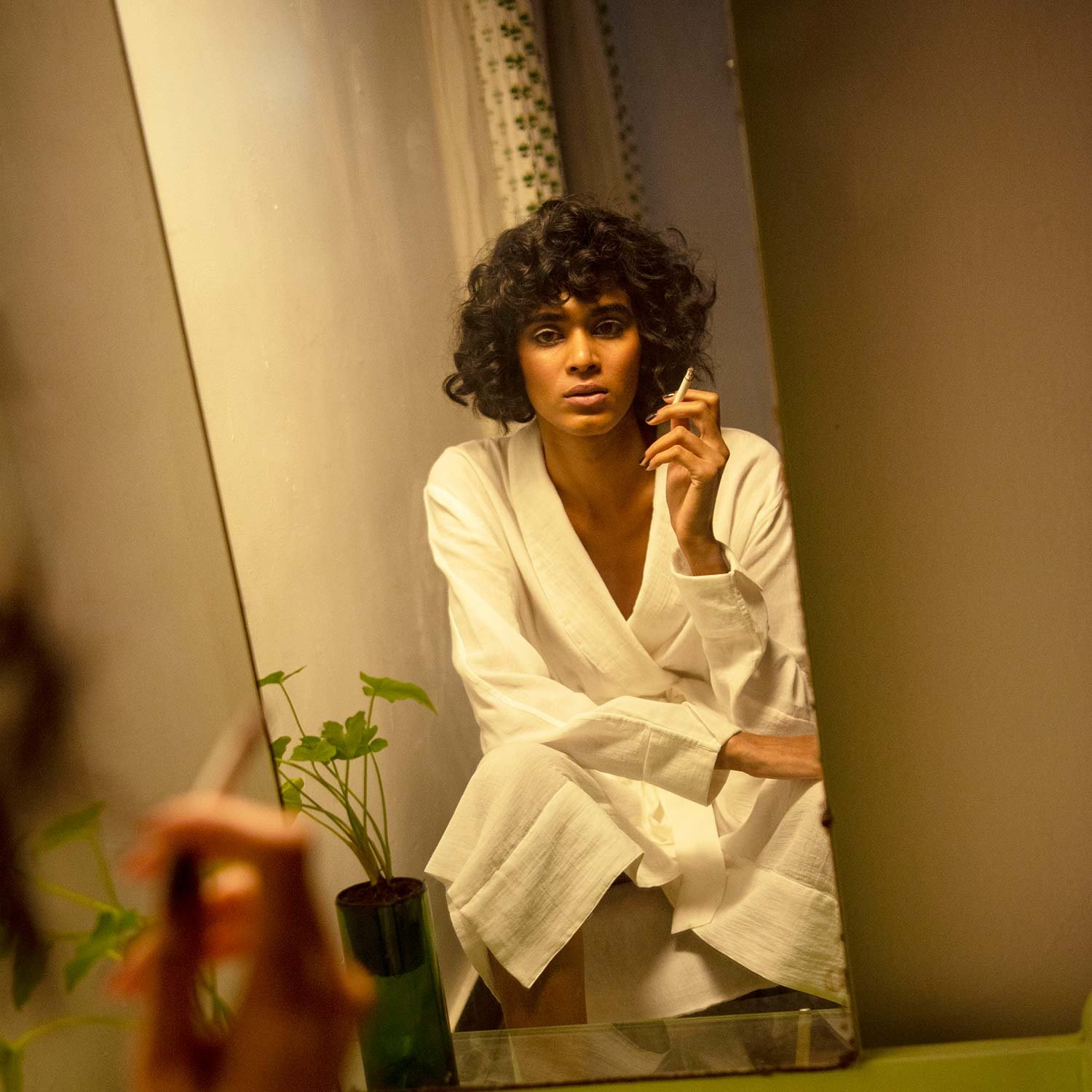 Our Mrs Tactile robe is a cornucopia of sensations. We use a very specific Japanese technique called double-layering (which is like making two robes in one!). Even though it is double the work, it renders the stitches invisible, resulting in a beautifully crafted robe with more versatility than one would imagine. It is made in a soft and breathable muslin, and mimics the feeling of being wrapped in a warm embrace.
Termites build their mounds using an extremely sophisticated understanding of ventilation that baffles scientists. Their mounds stay cool in the summer and warm in the winter. We gave this brief to our textile innovator, who then played with the openings and closings in the weave of a classic Madras mul-mul with a steam treatment. The result is the softest fabric in the world—Aeromul—light and airy for the summer and a perfect cozy layer in the winter! 
Sizing and Styling Guide:
The model's height is 5'8 ft and she is a size XS-S and is wearing our FREE size. This robe is made in our light and breathable Aeromul. It is designed with a bit of ease and wraps around you like a soft embrace. You can't go wrong sizing this robe. So if you are a size XS, S, M or L, you will slip comfortably into our FREE size. Layer it with a slip dress if you're expecting company, or plan to curl up on the couch with a book. Or, throw it over the escaping a pond of jellyfish (structured tee) and the like a new lover (pajama) when the doorbell rings. The perfect companion for a luxurious snooze, or a smoke on your stoop (with a special mini pocket!). You can even prance around the room in it; work from home in it; zoom in it with a secret thrill. If you are hesitant about sizing, reach out to us at team@obataimu.com and we will be happy to assist you.